If you are new to P&B you may want to first read this in sequence to know what its about
1. Bridal Files 6 Months to Go
2. Bridal Files 5 Months to Go
3. Bridal Files 4 Months to Go
10.The Wedding
11. One Year on….
12. The Bridal Files (SIl Edition ): 6 Months to go
13. The Bridal Files (SIL Edition) : 5 Months to go
14. The Bridal Files (SIL Edition) :4 Months to go
15. The Bridal Files (SIL Edition) : 2 Months to go
The countdown for my SIL's Wedding is hot on our heels with just over a month to go for the festivities to begin . The wedding is end of December and today the bridal  lehenga for the feras and the outfit for the reception arrived YIPPPEEEEEE!!!
Everyone in the house (Read: Only me, im the only clothes crazy person) was waiting with bated breaths for that suit case to open and out popped a  beautiful coral colored raw silk lehenga with pearl and kundan work by Chamee and Palak from Mumbai. Its got white and gold work going up in alternate panels and a pretty, pearl dotted background. Its paired with a lemon choli and a lemon dupatta, along with a simple veil on the head. Its a simple, morning wedding with a big reception at night so in that sense this light lehenga is absolutely perfect and the colors are stunning!!! The reception outfit is a Manish Malhotra style anarkali lehenga in a raspberry pink done by one of our very talented family members who is also a designer !
The Big outfit Switcheroo
So here is the thing- the coral lehenga for wedding  is heavier than the anarkali-lehenga for reception that my sister in law has gotten. Plus the reception is a MUCH bigger affair than the morning wedding (Reception =600 people, Wedding= 250 people) ..so should she switch up her outfits and wear the coral lehenga for her reception and anarkali lehenga for the wedding??? Everyone in the house is convinced that she should, except her so she is giving this a think. Thoughts ladies?
For me- i have switched my outfits too . Remember i told you about the black embroidered jacket lehenga i bought. (I kinda think its heavier than the brides anarkali lehenga, but oh well. Im the newely married girl ok. Im allowed). Im not going to wear it for the wedding, ill wear that for the night reception. Firstly its black and in the daytime, black just looks wierd ! Secondly , its heavy and i want to reserve it for the bigger function. So now the question is..what do i wear for the wedding?
The boys dadi is super cute ! She saw this photo of me in a sari and now she is INSISTING thst i should wear a sari for the wedding, and honestly im quite happy to oblige ;) It means i get to go shopping for an extra item ..Yip- the pup- peeee….I cant buy saris without my mum though, so finding a timeslot where my mom doesnt have 100 things to do and i have a holiday is super difficult ! Sigh.
Maybe a sabya style saree like these in powder blue or pink!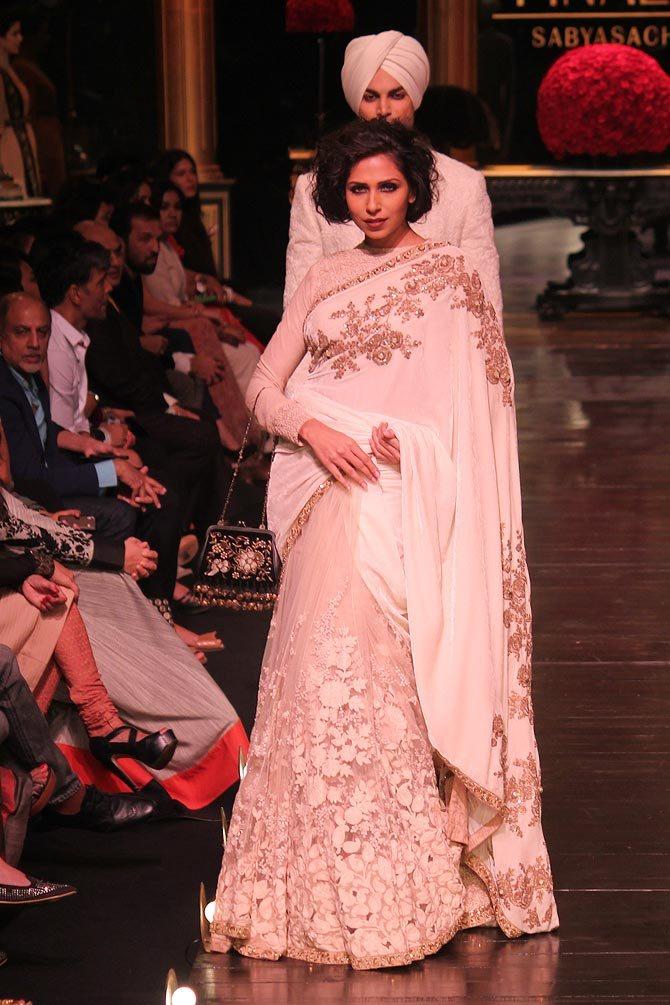 Image courtesy: http://www.rediff.com/getahead/slide-show/slide-show-1-glamour-lfw-photos-was-this-the-greatest-sabyasachi-show-ever/20130828.htm#9
Or a satin saree in champagne?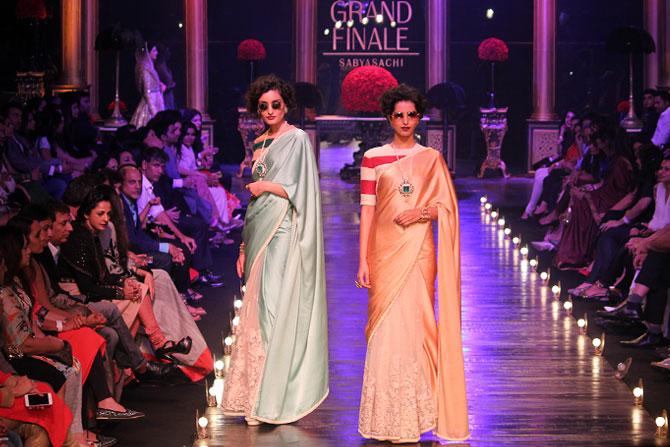 or just a bright gota patti saree??  Lime and coral? Orange and Pink? Peach and Red?
Song Selections
Yayiee ! I dont have to dance on boring songs anymore like on my own wedding ! I can unabashedly shake my bootie (tooh?) to whatever the hell i want to dance on. Actually i would love to dance on Tooh- my new favourite song but the lyrics are a bit riske- specially since we have the boys side being slightly conservative Gujju's ! So i told everyone that i want to dance  on something like Ghagra with 3 boys surrounding me  :p  According to my husband that is very shameless and i am a desperate attention seeker and i whole heartedly agree to that !
Good Bye Reception#2 Outfit
Remember i made my sister buy a simple but beautiful saree for her trousseau from Delhi (this is it below) which to my shock, she thought was appropriate enough to wear for her  second reception in Mumbai? Thank fully sense (and MIL)  has prevailed , and she is now keeping this as a trousseau piece ! Isnt it super stylish ! I love it. Infact its something like what i would have picked up for myself to wear for her morning event, but we cant have the same saris now can we? I shall borrow later !
Best Friends Wedding is Next Week!
Its the year of marriages in our friends circle, and while one just ended …another one is up next week. Advantages of being married recently – you always have your trousseau to wear wiuthout worrying about new clothes!!! Stay tuned ill try and post my outfits for her sangeet and her morning wedding . Woohoo!